Angela Biggs is a light soprano with a clear, sweet sound most commonly described as "angelic."
Her musical career began at the age of eight, when she participated in the children's ensemble of a Syracuse Opera Company production of The Magic Flute. She became a Catholic cantor at the age of twelve, and since then has amassed nearly two decades of experience. Angela studied under Dr. Esther Jane Hardenbergh for two years at Manhattanville College. During this time she was featured in various solos, co-won the Arlene Kaplan Competition as a sophomore, and regularly cantored Masses at the Galway Cathedral during a semester abroad in Ireland.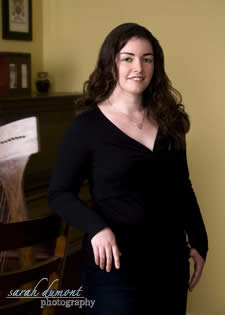 Although she had to leave college for financial reasons, Angela's solid foundation in music had already provided her with the tools she needed to explore and enjoy her gift. She now resides in western NH, where she graduated summa cum laude with a B.S. in Accounting/Finance from SNHU in 2010.
Diving back into music as she completed her finance degree, Angela studied contemporary singing styles with Marie Gouba in 2010, and joined the Handel Society of Dartmouth College for its 2010-2011 season. Two years after starting her own private studio, in 2013 she was awarded an Artist Entrepreneurial Grant by the NHSCA to attend the Vocal Pedagogy Professional Workshop at the Boston Conservatory. She has prepared the Claremont, NH All-State choral candidates for their November auditions from 2013 to 2016. Her article, "Life-Giving Funerals: The Importance of Skill in Music Ministry" was published January 12, 2015 in the Catholic scholarly magazine Homiletic & Pastoral Review, and she gave her debut solo recital, "The Greatest of These: Songs of Grief, Hope, and Love," in March of the following year. In March 2017, Angela became the first vocalist in New England to earn the Cantor Colleague Certificate through the National Association of Pastoral Musicians (NPM). In June 2018, she joined Upper Valley women's chorus Cantabile as a featured soloist, and sang in the St. Gaudens's Summer Concert Series. She studied with Jennifer Hansen of Lebanon, NH from 2015-2018.
Angela is currently Music Director of Holy Family Parish in Springfield and Chester, VT. She is an associate member of the National Association of Teachers of Singing (NATS) and a member of NPM.